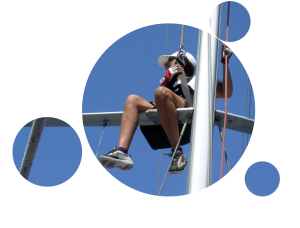 Nel 2000, complice una bellissima mostra di pittura aborigena a Palazzo Bricherasio di Torino, Maria De Ruvo scopre e s'innamora della dot art – arte a punti, tecnica pittorica utilizzata dagli aborigeni Australiani – e della sua speciale capacità d' interazione tra l'astrattismo della tecnica, la plasticità dei soggetti e della combinazione infinita dei colori. Elabora una sua personale ricerca e comincia a dipingere. I primi quadri sono stati per i suoi nipoti, fedelmente riprodotti nelle dimensioni reali, ma immaginati in colori fiabeschi e immersi in textures sognanti in onore dell'ispiratore dreamtime aborigeno. Adesso Federico e Gabriele sono diventati adulti, di loro (e di molti altri bambini ritratti in seguito) se ne conserva la dimensione – reale e fantastica – dell'infanzia nei ritratti di Maria, che ha cominciato anche a interpretare e a estendere il suo linguaggio, rigoroso nello stile ma giocoso nei colori e nelle forme, ai piccoli animali domestici e di fantasia.

Maria De Ruvo nacque a Novara con la matita nella mano sinistra e la valigia nella mano destra. L'una non intralciò i programmi dell'altra, anzi: la matita puntò dritta verso l'istituto statale d'arte, la valigia verso il treno che la portò a Torino a disegnare per Armando Testa, tanto per dirne una. La serena convivenza dei due oggetti che accompagnarono la nostra amica Maria in agenzie pubblicitarie e aziende rigorosamente internazionali (il km 0 in questo caso non è mai stato contemplato, né dalla matita, né dalla valigia ovviamente) è ancora attiva e viva, sopratutto adesso che è finalmente libera da impegni professionali. Matita e valigia sono sempre con lei: la matita per decidere chi o cosa dipingere, la valigia per accompagnarla nei suoi personali vagabondaggi per mare e per terra.

No, in Australia non c'è ancora andata.

Following a beautiful exhibition of aboriginal painting at Palazzo Bricherasio in Turin in 2000, Maria De Ruvo discovered and fell in love with dot art – a technique used by Australian Aborigines – and with its special ability to interact with the abstraction of its technique, the plasticity of its subjects and its endless colour combinations. She developed personal research and began to paint. The subjects of her first paintings were her nephews, of whom she faithfully reproduced life size portraits imagined in fabulous colours and dipped in dreamy textures to honour the aboriginal dreamtime inspirer. Now Federico and Gabriele are grown-up, but we conserve their childhood size – real and fantastic – in Maria's portraits. Her painting style, rigorous but also playful in colour and shapes, began to be translated and extented to small pets and imaginary animals.

Maria De Ruvo was born in Novara with a pencil in her left hand and a suitcase in her right. They never hinder each other, on the contrary: the pencil led her to Art School, while the suitcase took her on a train to Turin to draw for Armando Testa, to name but one of the most famous italian agencies she has worked for. The peaceful cohabitation of the two objects, that went along with our friend Maria to international advertising agencies and companies is still alive and kicking, especially now that she's finally free from work engagements. A pencil and a suitcase are always with her: the pencil to decide who or what to paint, the suitcase as a faithful companion during her personal wanderings by sea and by land.

No, she hasn't been to Australia yet.